Delmonico's - New York
America's oldest and the first fine dinin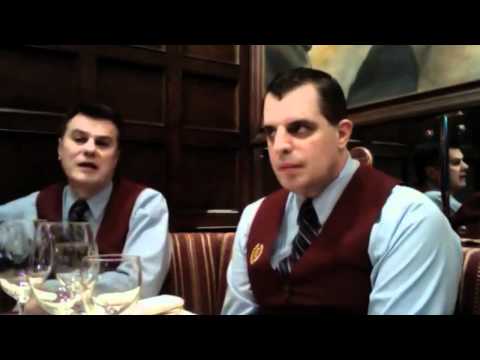 g restaurant still in operation, Delmonico's started serving in 1837 (!); for going on two centuries, it's been the place for some of the best steaks in New York City, USDA Prime…and beyond. It's where to go for a romantic evening, to get a sense of old New York, or to have one of the finest steaks around.
Delmonico's in New York's financial district was the first restaurant to serve eggs Benedict, lobster Newberg, baked Alaska, and the cut of meat they called a Delmonico steak. Delmonico's, in short, is an institution.
Since its early days, Delmonico's has been associated with over-the-top dining, and a very strong focus on red meat, including the namesake Delmonico steak. In the United States, the Delmonico steak could be one of three cuts: a boneless ribeye, a bone-in top loin steak, or a boneless top loin strip steak. At Delmonico's restaurant, today, the Delmonico is a boneless ribeye, two heart cuts of the rib eye, held together with butcher's twine, and looking just a little like a pair of filet mignon; because it has more fat, it's moister (and some would say much more delicious).
Read More
On the menu you'll also find the Mishima Reserve Gold Label Filet Mignon and the Mishima Reserve Gold Label Ribeye. Both cuts are Wagyu, and the marbling in these steaks goes beyond the traditional USDA rating system by several levels: that means the steak is moister and even more delicious than a USDA Prime-rated piece of meat.
There's also 28-day dry-aged ribeye, tomahawk and porterhouse steaks, and a 48-day dry-aged bone-in ribeye.
Though steak has set the standard of excellent at Delmonico's, there are also some exceptional fish options, including Dover sole, pan-roasted halibut and, of course, lobster Newberg.
In keeping with the old school vibe of the place, you can have an artisanal cheese course for dessert, paired, ideally, with one of the excellent dessert wines on the menu (ps. Delmonico's was also the first restaurant in the United States to have a printed menu).