Sparks Steak House - New York
Since 1966, Sparks Steak House has proven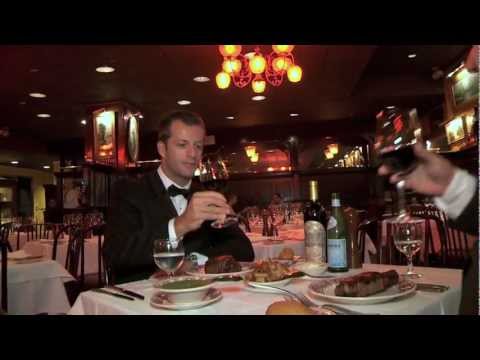 its staying power, a classic restaurant that consistently pleases with a menu of many traditional standards, and a few surprises, all done up exactly how you'd expect from a highly professional team. Some of the best steak in Manhattan, USDA prime, as well as other cuts of veal and pork, are sure to please.
This is a very busy restaurant in one of the busiest cities in the world. Writing in "New York" magazine, Adam Platt notes that "thanks to the quality of the New York strip, and the ghost of Paul Castellano hovering over the room, Sparks achieves that delicate balance between tradition and big-city chic better than any big-volume steakhouse in Manhattan."
Every dinner begins, as you might expect, with seafood and other traditional starters, which are requirements for a steakhouse that aims to please large numbers of people. But there are a few surprises, menu items you're not likely to find on other steakhouse menus: clams with scampi is a pleasing combination of the bivalve and the crustacean, and lump crab meat and scallops are another warm appetizer that on a cool day may please more than the oysters on a half shell and shrimp cocktail. You can also get a live lobster up to 5.5 pounds (!).
Read More
The steak is presented with more than just a plain white plate under it: the medallions of beef are served in a bordelaise sauce with mushrooms, and steak can be dressed with Roquefort cheese (a fantastic combination: beef and Roquefort were made for each other).
Sparks Steak House boasts a very deep wine list, some available in half-bottle as well as large-format bottles, the latter appropriate for private parties; for such events there are many private dining rooms, including the Hudson Room, which can seat up to 250.
In a city of many people, Sparks Steak House reflects the hustle-bustle of New York City with a vibrant and exciting dining space, and some of the best steaks served anywhere in the Empire State.