Asador Bastian - Chicago
Asador Bastian is a steakhouse like no ot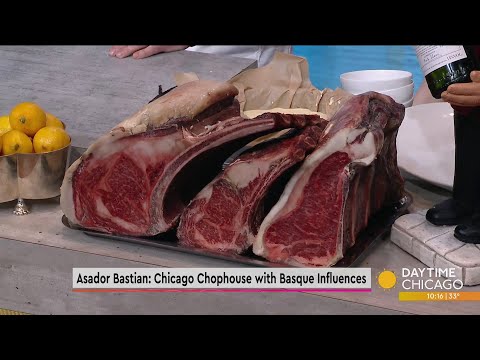 her, located in Chicago's River North in a nineteenth century townhouse. What sets Asador Bastian apart is the focus on one cut of meat, Txuleton, a thick bone-in ribeye popular in the Basque region of Spain.
Read More
A good way to start dinner at Asador Bastian is with the Spanish tortilla, which is nothing like the Mexican tortilla: it's a simple, traditional creation of eggs, onions and potatoes, fried and flipped in a pan, served hot or cold and at Asador Bastian, you can have it with ham, caviar or black truffle. Other interesting starters include cecina (dried beef) with blue cheese, dry aged beef and truffle tartare, and caviar churros.
At Asador Bastian, steak reigns supreme. For devoted carnivores, check out the 20-day dry aged Holstein and the 100% Tajima from the Peacock Cattle Company. You just might think you're tasting steak for the first time.
Nick Kindelsperger raved in the Chicago Tribune, "I always thought the best steak came from cattle that were less than 2 years old. If fed the right diet, this produces beef that's extraordinarily tender and loaded with fat. But as is common in northern Spain, Asador Bastian proudly serves steaks from older cattle. In fact, all the beef served here comes from cattle at least 30 months old, with some nearly 12 years old. While prime beef from younger cattle cuts like butter, it can also come across as mild and a little greasy. But the meat here showcases a clear, unfiltered beefiness that's immensely savory without getting weighty. It does have a slightly more toothsome texture but remains remarkably succulent. In the past month, I've devoured two of the finest steaks I've tried in years."
Though steak is the star at Asador Bastian, there is magnificent seafood flown in regularly from Athens and Barcelona.